What you should know about Non-Violent Offenses under California's Proposition 57
Proposition 57 was enacted by a majority of California voters on November 8, 2016. Proposition 57 does three things: first, it allows early parole consideration for specific people in the state prison who have nonviolent convictions. Secondly, it gives the CDCR authority to award additional program credits and good conduct to prisoners who are in approved rehabilitative or educational programs. Lastly, this proposition eliminates the assumption that juveniles between ages 14 to 17 who commit serious felonies will be prosecuted in adult courts and instead, it gives judges the power to determine when juvenile cases can be transferred to an adult court. Working with a prop 57 parole attorney can help offenders and their families understand Proposition 57 and its impacts.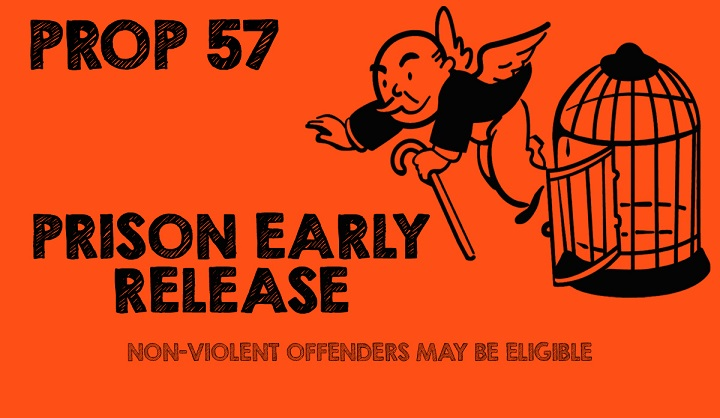 Who is a Non-Violent Offender?
Most people do not know who a non-violent offender is given that there is no California Penal Code section that defines "nonviolent" offenses, but there is Penal Code § 667.5(c) that defines "violent" offenses. Ineligible prisoners include those condemned inmates who are sentenced to death, those incarcerated for life without parole, anyone who is serving a term of incarceration for violent crime, and those imprisoned for life for a violent felony and with the possibility of parole.
Public Safety Screening
Shortly before the inmate completes his or her primary term for the offense, CDCR conducts an eligibility review. If CDCR determines an inmate is eligible for nonviolent parole consideration, the inmate is referred to the Board of Parole Hearings for a second screening. If the Board determines the inmate is eligible, the inmate will be scheduled for a full parole hearing if he or she is serving a life term with the possibility of parole, or a paper review by a hearing officer if he or she is serving a determinate term. The goal of the hearing or paper review is to determine whether or not the inmate poses an unreasonable violence threat or threat of major criminal activity. If the inmate is found suitable for parole he or she is soon released. If he or she is denied parole, he or she will go through the process again every year until found suitable.
So far the process has been a farce, with nearly every eligible inmate being denied parole. I am presently fighting several of these denials in court and hope to put a stop to at least some of these abuses.
I can represent you if you are having a full nonviolent parole hearing, just as if you were having any other parole hearing. And while I am not allowed to represent you before the Board during a nonviolent parole paper review, I have assisted several inmates prepare the written statement they are entitled to submit explaining to the hearing officer why they are suitable for parole, and I can increase your odds of success by doing this for you as well.
Hire a Proposition 57 Attorney
When you need a California prop. 57 parole lawyer to represent you, a friend, or family member, contact Michael Beckman. With years of experience handling Proposition 57 relief cases, I represent every client zealously to ensure that I get them the best results possible. Contact Michael Beckman today for the best legal representation.